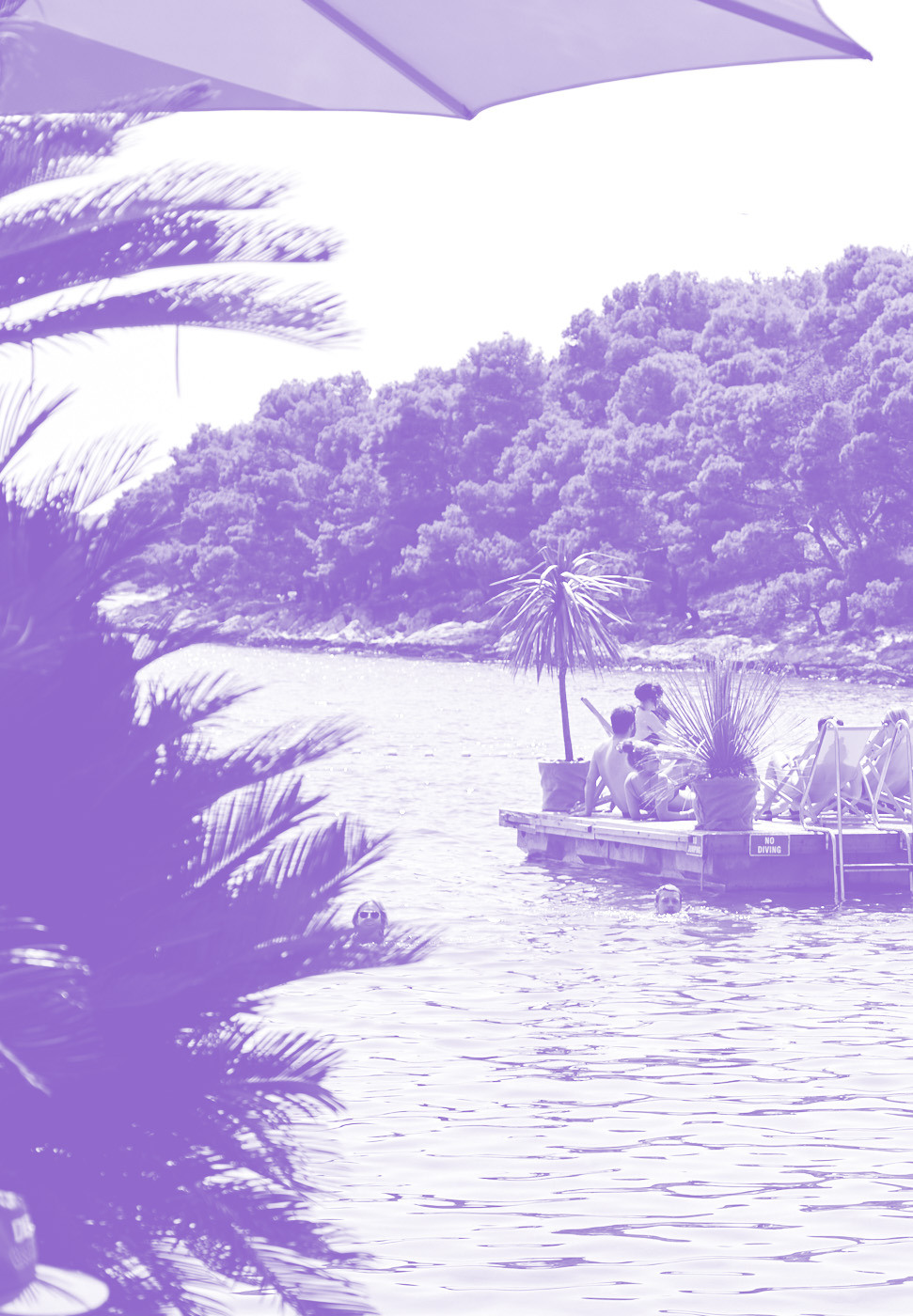 Dekmantel Selectors 2021
Since 2016, our Croatian get-together Dekmantel Selectors has operated like an end-of-summer camp, contrary to large-scale festivals that feel like cramped cities. The attendance is capped at 2500, prioritising room for people to relax, converse, dance, and otherwise express themselves. The festival spreads out over a leisurely Thursday to Monday: the Beach Bar has music from midday at the water's edge, three stages run from afternoon to evening, and a handful of boat parties sail out per day. The guests we bring receive extended sets, so pressure to sprint around in order to catch everything is reduced. If you feel tender, our indie cinema showcases film screenings in a softly-lit enclave off the beaten path, or there is of course the beach. Once the action on the main site wraps up, Tisno's infamous club Barbarella's hosts just two or three performers from midnight to 6am. That's it.
In 2019, the Nest was reborn, placing a spread of daring DJs in an intimate, ravier setting. Familiar stars of our world returned, but the music also pushed farther out than before: standout sets from the likes of Darwin, OKO DJ, MSJY, Phillip Jondo and a raucous Kiosk Radio boat party had minds racing as fast as arms were pumping. Next to a new area for listening to music, away from the hum and thud of the dancefloor, Dekmantel Selectors will see more collaborators and co-curators than ever. Record labels, radio stations, parties and overall forces for good in the Dutch scene will be foregrounded, paying back those around us who make up such a fertile, diverse, vital scene.
At the end of an unusual summer, we are more than happy to say: Yes, Dekmantel Selectors 2021 is happening. The current Croatian event regulations allow events with a capacity exceeding 1000 people, such as Dekmantel Selectors, when the organizer applies to the Croatian government for an additional permit. This permit, which is granted to our hosts at The Garden, demands that a range of safety requirements are implemented. Amongst others these are a mandatory valid ECC check (European Covid Certificate - proof of vaccination, a recent negative test or proof of recent recovery) at the entrance for all visitors and an on-site testing facility. With this, we can safely draw DJs and punters back to stay in Tisno. Great music, plentiful sunshine, and a much-needed moment to breathe.
Any questions? Check out our FAQ here!