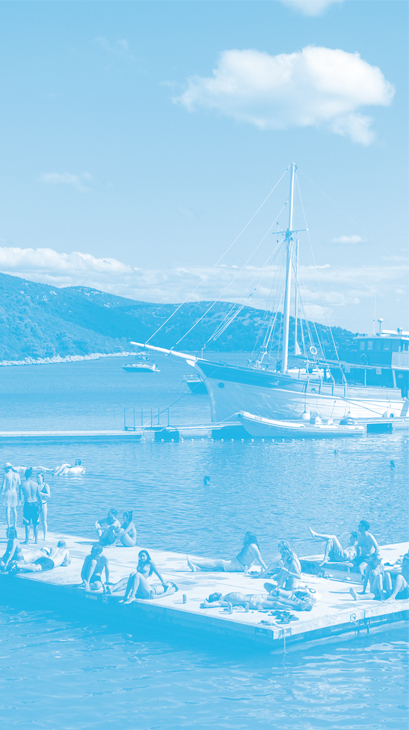 A celebration of sun, music and togetherness
As with all good things in life, music is best experienced together. After being unable to see each other on the dancefloor for some time, the heartwarming reunion of our 2021 edition only emphasized even more how this aspect of human connection, sharing music and losing our minds together, lies at the very essence of Dekmantel Selectors. Our summer closer laid out over the stunning backdrop of Tisno and the Adriatic Coast, in which we have a full five days to recharge, interact and indulge in the music we love, has always been our cosiest affair: the warm Mediterranean sun touching our skins and the clear blue sea always there for us to dive into, go hand in hand with the festival's aim to create more space to breathe by keeping the festival small and intimate.

Embarking on our 2022 edition with our first entirely new line-up in two years, we're approaching the festival with a fresh focus and a newfound set of eyes. New talents are burgeoning, acclaimed artists have kept digging deeper, and our tropes of music have meandered into enticing new territories with an array of new faces to meet, and bewildering new music to discover. With only a handful of stages and extended set times, it's here that artists like upsammy, CARISTA, Eris Drew and Parrish Smith juggle records from the deepest of their crates and go far off the beaten path, and where the lauded stars of our world stand shoulder to shoulder with the up-and-coming talents of tomorrow. The full fruition of The Nest, a relatively new stage of grittier, forward-thinking sounds ignited in an intimate setting, has proven a testament of that. And for 2022 we further cultivate last year's novel Magnolia stage, which diverges from the dancefloor and embraces the listening experience.

As the music keeps evolving, the key ingredients of Dekmantel Selectors remain: laid-back dancing over at the Beach Bar during daytime, more raucous affairs spread across different stages as the sun comes down, heading to the beloved Barbarella's nightclub until the morning sun, as well as a daily fleet of infamous boat parties that are hosted by organisations, crews and collectives that mean a lot to us, such as Rush Hour, BAR40, AMPFEMININE, PIP & Future Intel and Echobox. Add the basking sun, clear blue sea and overall Mediterranean charm of Tisno into the mix, multiply by a generous five days, and wallow in the knowledge that we're able to experience it all together.